Industrial Curtains and Track
Our versatile industrial curtains are at work in various applications across North America.
Whether you are simply looking to close a door way, enclose a machine, or create a complete warehouse dividing wall, we can fabricate a solution for you.
Our heavy duty curtains and industrial curtain track systems are the perfect solution for use as...
- Wash bay curtains - Welding flash curtains
- Warehouse curtains - Gymnasium partitions
- Auditorium dividers - Door way curtains
- Freezer curtains - Welding fume control curtains
- Temperature control curtains - Dust control curtains
- Sound deadening curtains - Insulated curtains
- Industrial strip curtains - Body shop curtains
- Dust control curtains - Fume control curtains
The possibilities are limitless and every requirement is unique.
We have you covered from design to delivery.
Below are just a few examples of curtains for different applications.
Curtain Fabric Features:
18oz. Vinyl (PVC) fabric
Available in 10+ colours
Flame retardant to meet all Canadian fire code requirements for indoor use
Chemical retardant
Mildew resistant
Fabric is UV protected for outdoor use
Options:
- Clear safety window panels
- Welding flash window panels
- Bottom chain weight
- Velcro or zipper openings and closures
Curtain Track Features:
12 or 16 Ga. Heavy duty galvanized steel track
Many stock lengths in stock, or cut to suit
Options:
- Curtain track joiners
- Top mount hangers
- Wall mount hangers
- Threaded rod & cable hangers
- End stops
Steel ball bearing or nylon rollers
Retractable Curtain Systems - Machine Enclosure


Requirements:
- Enclose machine and work area to control dust
- Maintain gantry crane access to the enclosure
- Fully retractable for machine service and access
Solution:
Features:
- Heavy duty 12 Ga. galvanized curtain track with wrap around closure
- Steel ball-bearing rollers - 1 person, 1 hand operation
- Clear safety window all around
- Chain weight
- Roof and floor mount suspension hangers
- Custom colour combination
- Custom valence flap for gantry crane access to the enclosure
Welding Curtains & Welding Screens
Requirements:
- Design welding flash curtain system to divide manufacturing facility into 30 welding booths.
- Installation, including supply of all curtain, hanging chain, curtain rods and hardware.
Features:
- Modular design, easy to hang and relocate
Doorway Curtains
Western's doorway curtains can section off warehouses and help contain work areas. Apart from providing dust and fume control between work stations, Western curtain systems provide a professional look with custom colour combinations. All industrial curtain systems are flame retardant and are available with optional clear window or welding flash window panels.
Applications:
- Work stations
- Grinding or welding shops
- Sandblasting booths
- Paint booths or paint areas
- Wash bay curtains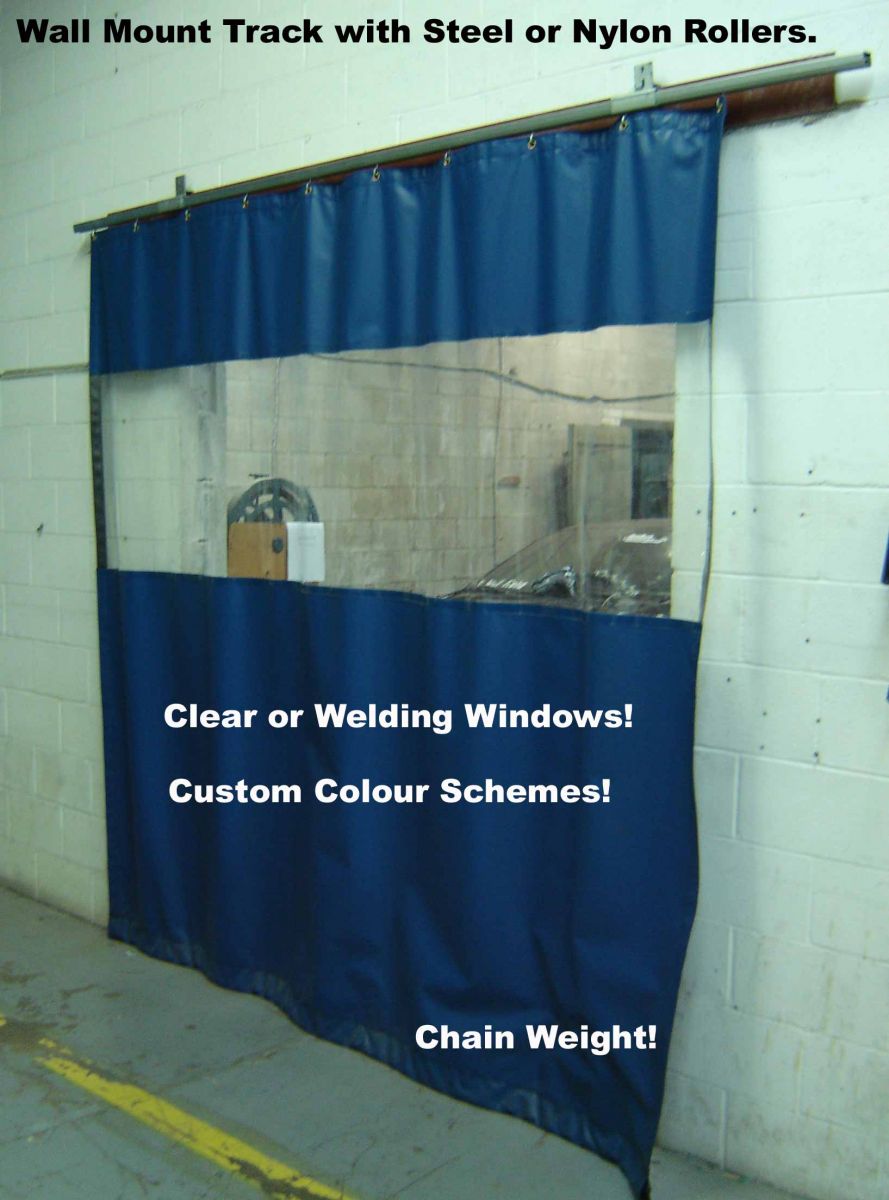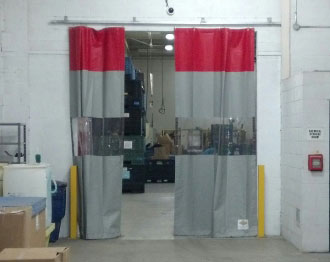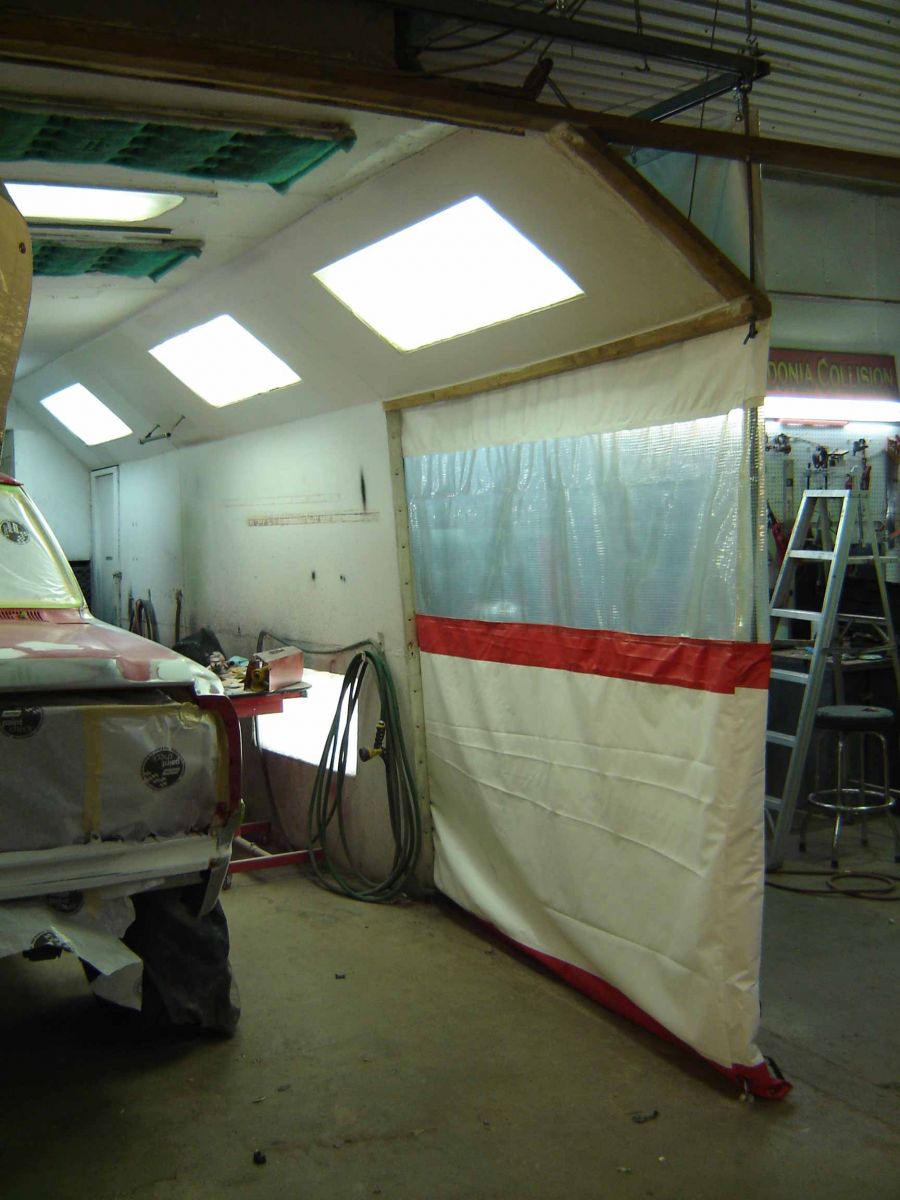 Economical, easy to install, roof mount or wall mount.
Call us
with your requirement - 1-800-265-9507
or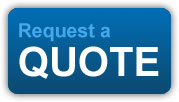 Warehouse Partition Curtains
Whether you are dividing an entire warehouse or sectioning off a specific work area - a warehouse dividing curtain from Western Tarp is the solution you are looking for.
Partitioning a factory using a Western dividing curtain allows you to control dust, noise, fumes and traffic to create a more functional and safe workplace.
Applications:
- Separating work areas and creating clean areas
- Protecting from hazards such as welding flash, welding fumes, or dust
- Creating defined work spaces
- Building renovations
Features:
- Made to order and to suit your specific application
- Various mounting options to suit your building
- Retractable sections for clear span openings
- Simple Velcro, zipper or overlap closures
- Optional man door or overhead door access built in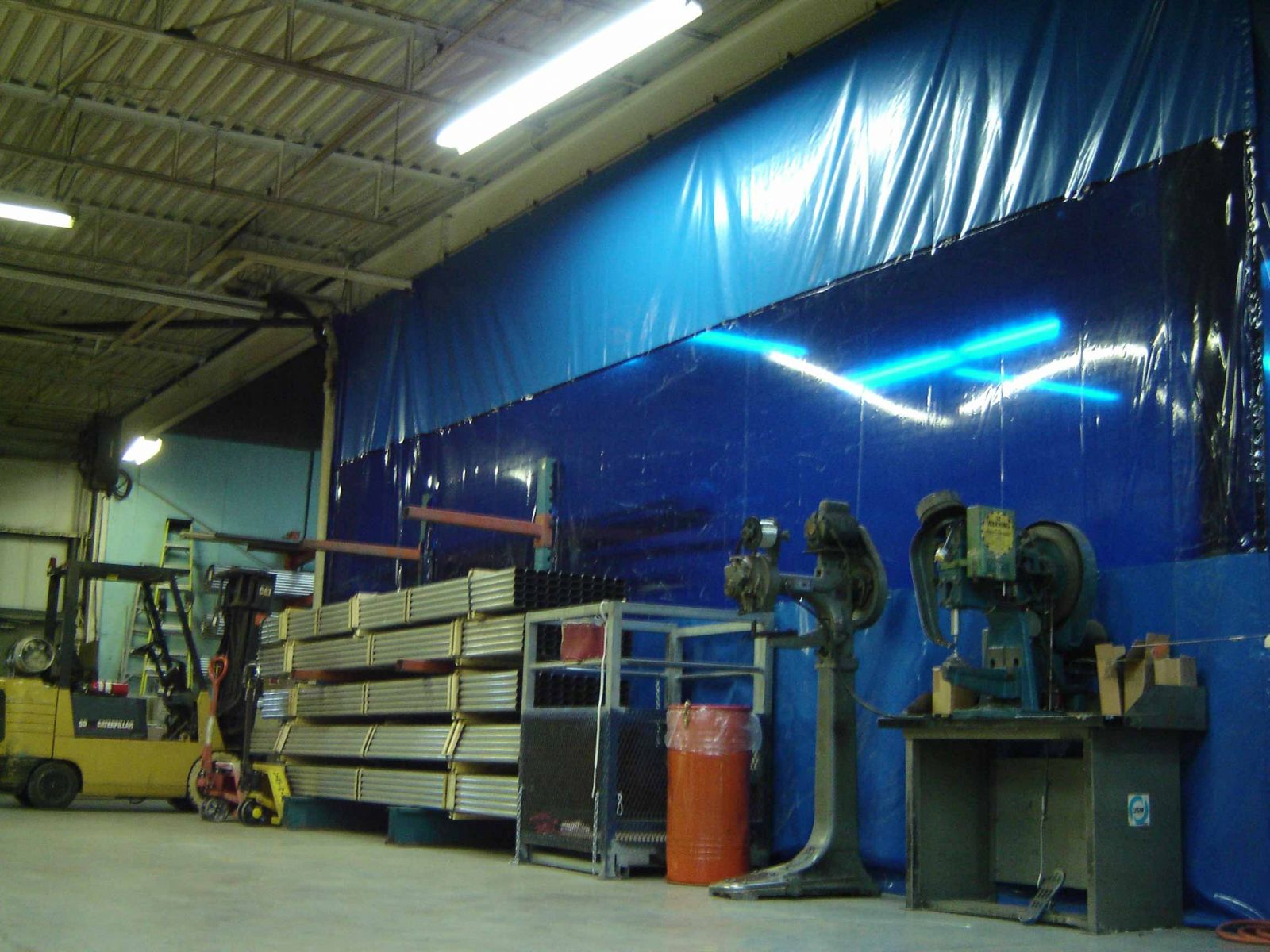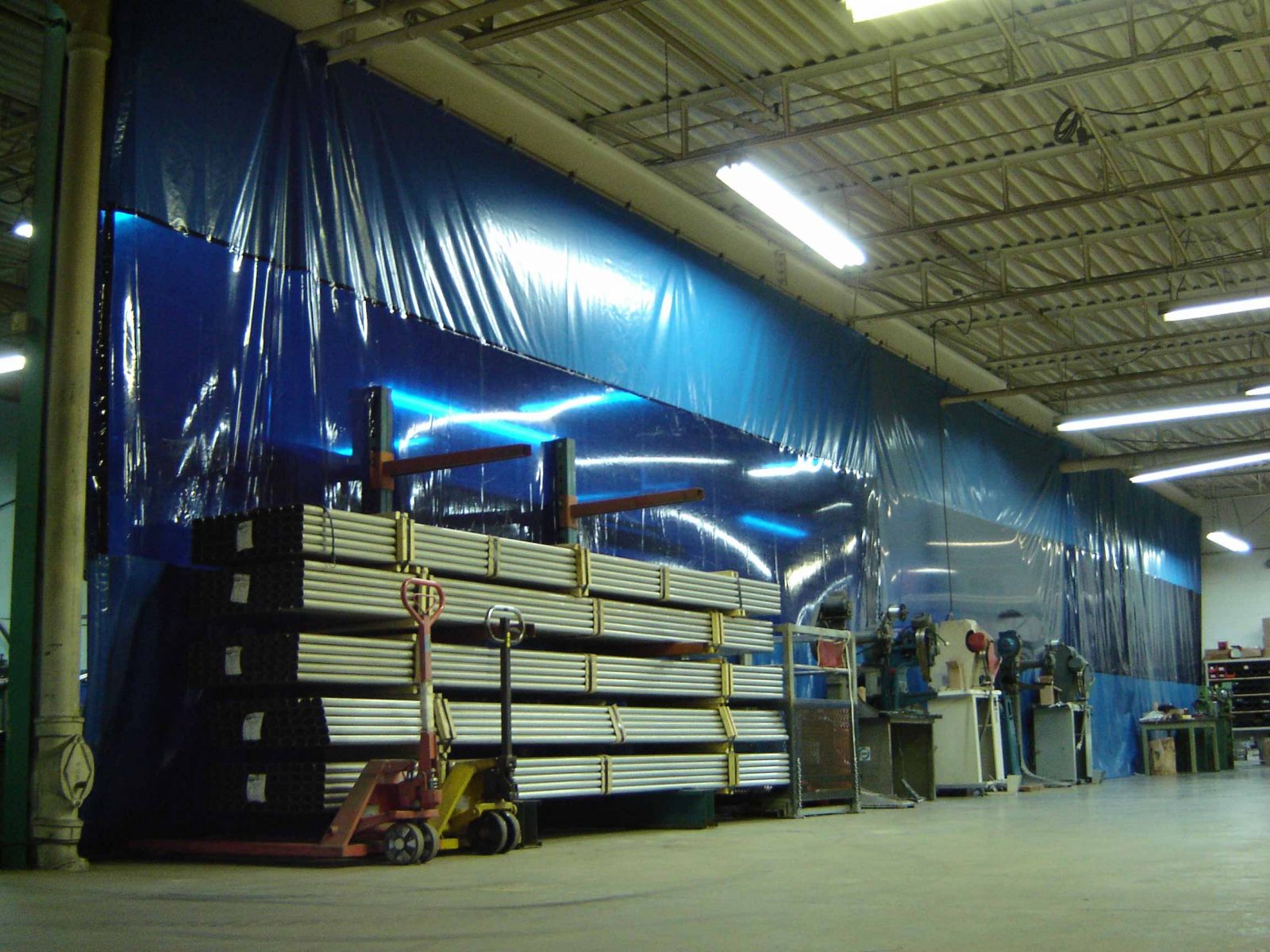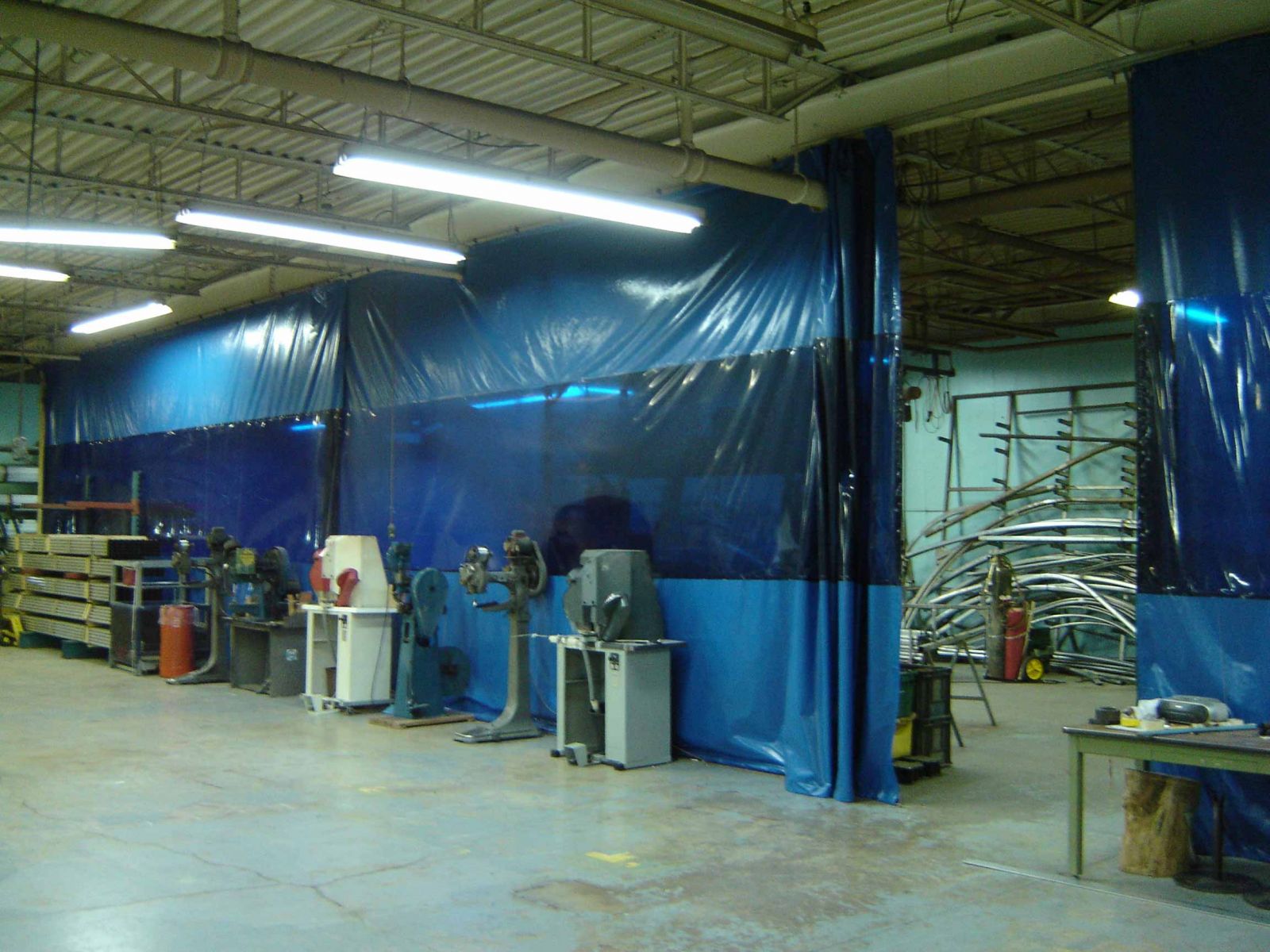 Call us
with your requirement -
1-800-265-9507
or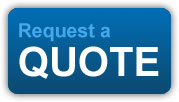 Custom Curtain Enclosures
Western's custom curtain enclosures are fabricated for various applications across industries. Built to act as personnel cooling rooms in hot factory environments or commercial baking facilities, hazardous material decontamination rooms, and temporary office space in warehouse environments.
Features:
- Internal or external frame, depending upon application
- Can be designed as permanent solution or with take down and storage in mind
- Smooth touch lacquer coated galvanized frame with Slip fit connections
- Various door and access options, including strip curtains and steel man doors
Uses:
- First aid areas, eye wash stations
- Temporary offices
- Clean rooms for CNC computers and controls
Call us
with your requirement
- 1-800-265-9507
or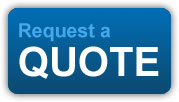 Outdoor Curtains
Western's versatile outdoor curtains provide protection to inventory, outdoor racking, outdoor shelving and other sensitive materials requiring shelter from the elements.
Applications:
- Enclosing loading docks
- Separating freight staging areas
- Enclosing outdoor racking
- Protecting equipment and items in storage
- Dust containment curtains for construction sites or outdoor manufacturing.
Features:
- Various mounting hardware and track mounting options
- All materials are UV protected for extended life outdoors
- All hardware and track components are galvanized
Storing something outside? Check out our
custom tarps
and
Dome Shelter Systems
TM
Call us with your requirement

- 1-800-265-9507


or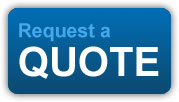 Strip Curtains
Western's strip curtains are a cost effective solution to partitioning temperature sensitive rooms or areas.
Each strip curtain is custom made to suit your specific application. We supply strips in various widths and lengths - cut to suit.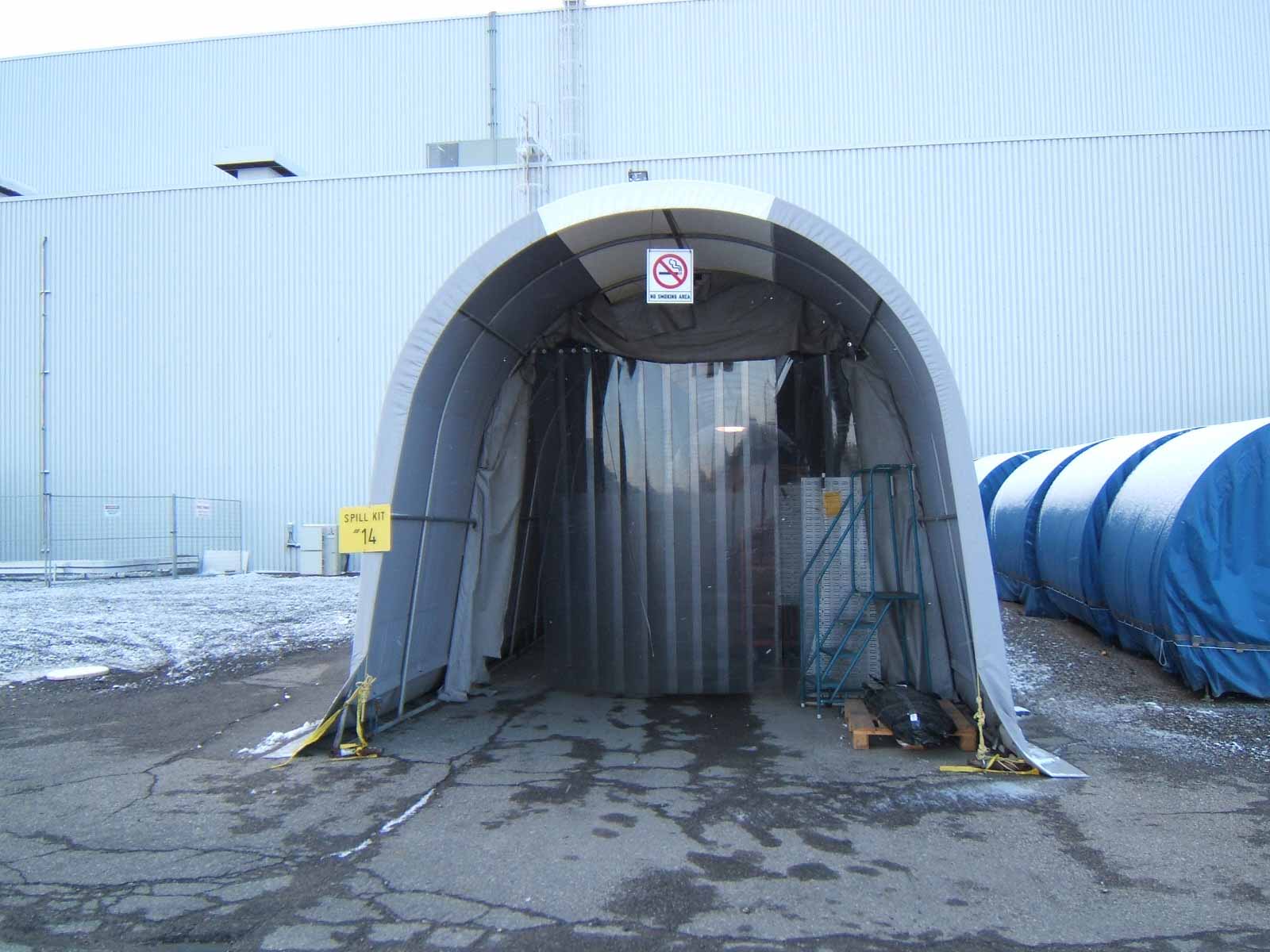 For more details - check out our
Strip Curtain
page.